L.A. Artcore
#74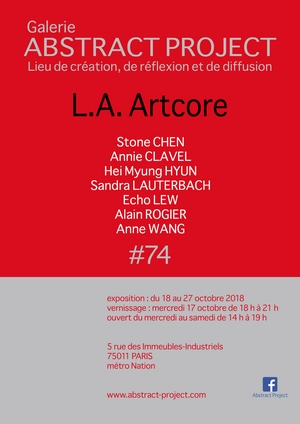 Exposition du 18 octobre au 27 octobre 2018
Vernissage le mercredi 17 octobre de 18h à 21h
C'est grâce à Lydia Takeshita et à ses étudiants du département des beaux-arts de l'université Cal State Los Angeles que tout a commencé entre 1960 et 1970. Les étudiants se réunissaient régulièrement en dehors des cours pour discuter du développement des arts contemporains à Los Angeles et ces discussions allaient être à l'origine de la mouvance artistique de Downtown LA (centre ville de Los Angeles).
Lydia Takeshita et plusieurs de ses élèves ont par la suite installé leurs activités dans Downtown LA et ont créé une galerie sur la rue San Mateo, dans l'actuel quartier des arts.
LA Artcore a été officiellement constituée en société à but non lucratif (association loi de 1901) en 1979.
Au cours des années 1980, LA Artcore a organisé de nombreuses expositions et a publié un magazine interne intitulé "Visions Art Quarterly", qui a permis une couverture locale et régionale de l'activité artistique. Parallèlement, LA Artcore a mis en place son programme d'échanges internationaux, qui consiste en un échange collaboratif permettant aux artistes de voyager et d'exposer dans un pays étranger ou dans une autre ville des Etats Unis. Depuis lors, LA Artcore a mené des programmes d'échange internationaux avec la Thaïlande, le Japon, la Corée, Taïwan, l'Italie et maintenant la France, ainsi que des échanges nationaux avec San Luis Obispo et Albuquerque.
En plus de son espace du centre-ville, LA Artcore a pu ouvrir une autre galerie en 1998 dans la "Brewery Arts Colony", une ancienne brasserie transformée en un complexe artistique, internationalement connu. Cet espace est toujours opérationnel aujourd'hui avec des expositions d'art mensuelles et deux fois par an une "Artwalk" très renommée.
Avec plus de 1600 expositions dans son histoire, LA Artcore maintient un calendrier d'au moins vingt-quatre expositions par an sur ses deux espaces, organise des réceptions d'artistes et des conversations avec les artistes lors des vernissages. Outre des expositions en solo et en groupe, des expositions spéciales ont été organisées, notamment des partenariats avec le Women's Caucus for the Art, Jovenes, des conservateurs indépendants, des groupes d'étudiants et des artistes.
Avec plus de 38 ans d'existence, LA Artcore continue de s'adapter à l'évolution du paysage artistique et culturel du centre-ville de LA en continuant de développer une programmation artistique interactive et une implication communautaire.
LA Artcore s'implique très activement dans les mouvements artistiques de Los Angeles par le biais de 24 expositions annuelles, qui proposent toutes des "conversations avec les artistes" animées par l'équipe dirigeante de LA Artcore.
Ces «conversations» permettent d'interagir directement avec l'artiste. En retour, les artistes obtiennent un aperçu et un feed-back sur leur travail par le biais de communications avec un large public.
Everything started with social and artistic interactions of students at Cal State LA's fine arts department, under the tutelage of Professor Lydia Takeshita during 1960's and 1970's. Students would meet regularly outside of class to discuss what would become a cumulative involvement in Downtown LA's aesthetic movement, and its budding fine arts culture.
Lydia Takeshita and many of her students then relocated their activities to Downtown and established a gallery space on San Mateo street in what is now the Arts District:
LA Artcore was formally incorporated as a nonprofit corporation in 1979.
During the 1980's, LA Artcore produced numerous exhibitions also with an in-house publication entitled Visions Art Quarterly that brought local and regional coverage. Concurrently, LA Artcore established its International Exchange Program, as a collaborative exchange that allows artists to travel and exhibit in a foreign country. Since then, LA Artcore has conducted exchange programs with Thailand, Japan, Korea, Taiwan, Italy, San Luis Obispo, and Albuquerque, and now France.
In addition to its Downtown space, LA Artcore secured another gallery space in 1998 at the Brewery Arts Colony, a former Brewery transformed into the country's largest live-work artist's complex. This gallery space is still in operation today with regularly scheduled monthly art exhibits.
With over 1600 exhibits in its exhibition history, Artcore maintains a schedule of at least twenty-four exhibits per year across its two spaces, conducts artist receptions and hosts conversations with the artists during exhibit receptions. In addition to solo and group shows, special exhibits have included partnerships with the Women's Caucus for Art, Jovenes, independent curators, student groups, and self-taught artists.
With over 38 years in existence, LA Artcore continues to adapt to the changing artistic and cultural landscape of Downtown LA by continuing to develop and build upon interactive artistic programming and community involvement.
LA Artcore is dedicated to recognizing diverse artistic accomplishments and bringing innovative exhibits and events to the public. LA Artcore welcomes artists of all ages, abilities, and backgrounds to enhance interactions between different constituencies.
LA Artcore is dedicated to expanding interactions between artists and audience, as well as providing a platform to enhance the exchange of information, ideas and feelings.
LA Artcore facilitates awareness of the essence of creativity, conducting "Conversations with the Artists" hosted by representatives from the Board of Directors.
These "Conversations" provide the opportunity to interact directly with the artist. Artists in return gain insight and clarity about their work through communications with a broad-based audience.